Anti-Slip
The open-mesh grating has a silica-impregnated surface for a sure footing in wet conditions as standard. Solid top grids are also gritted.
Fire Retardant
All our products are fire retardant as standard
Light Weight
Considerably lighter than many traditional materials, which makes handling and installation simple
Easy To Cut
Can be cut with normal power tools, although specialist blades are preferable. In house cutting service available
Self Draining
Cannot pond on the mesh surface and form ice
Zero Gas Build-up
The open mesh clearly allows air to circulate does not trap gasses which could otherwise create a hazardous environment
Chemical Resistant
All products are made in a quality isophthallic polyester resin so that they have a good level of chemical resistance as standard, but can also be produced in higher or lower grades to suit the environment. The standard Chemical resistance chart is available by clicking HERE.
Stock Panel Sizes (mm)
| Panel Size | Thickness |
| --- | --- |
| 2000x1000 | 25 or 38 |
| 3000x1000 | 25 or 38 |
| 2440x1220 | 13, 25, 38 or 50 |
| 3660x1220 | 25 or 38 |
Load Charts
Use the links below to download complete loading & deflection data for GRP panels.
Thickness & Mesh Size (In mm.)
25 Thick – 38 x 38 Sq. Mesh – Download Here
38 Thick – 38 x 38 Sq. Mesh – Download Here
50 Thick – 50 x 50 Sq. Mesh – Download Here
Panel Fixings
We offer a range of stainless steel clips for fixing panels and for securing unsupported butting edges.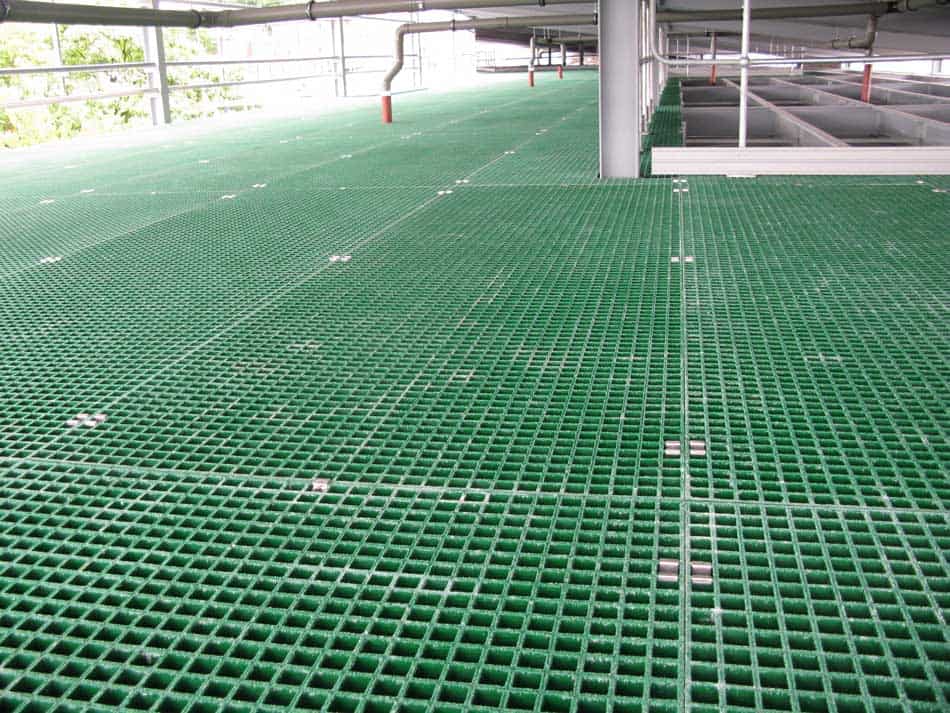 Durability
Today GRP flooring is widely used in, amongst others, the water, waste, food and chemical industries. Because of their commitment to safety and cost-effectiveness, managers have come to realise that it is not economic to specify such materials as steel, aluminium or timber since composite flooring soon pays for itself by virtue of its maintenance-free properties.
Application
As standard we supply grids made with fire-retardant isophthallic polyester resin, rather than the cheaper orthopthallic or general purpose. This means that all our panels have a superior resistance to a wide range of chemicals at elevated temperatures. Where the product is to be used in a very aggressive environment, resins such as vinyl ester are available.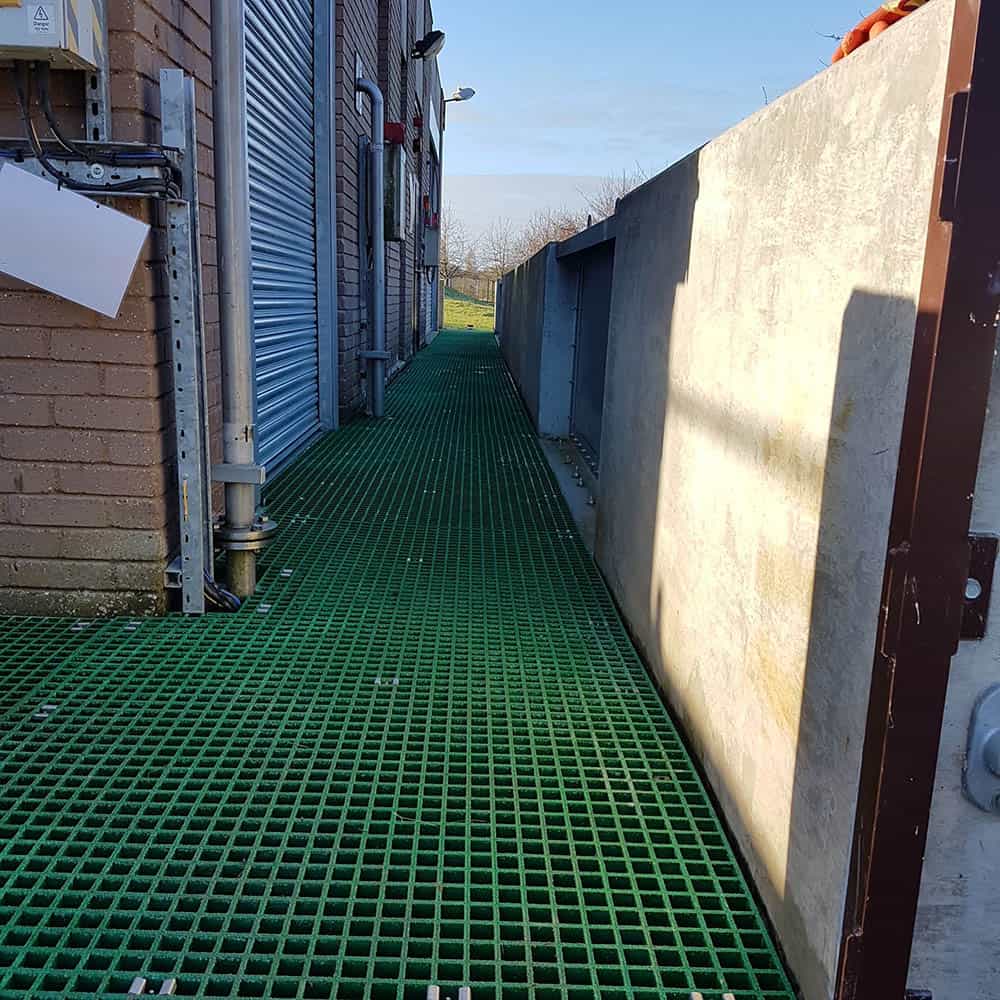 Construction
The resin forms the flesh of the grid, whilst continuous inert glass-fibre strands are layered in under tension to provide the bone structure. This endows the finished panel with excellent load bearing and impact resistant properties. The walking surface of the grid has a coarse grit bonded into it to ensure a good grip – even in greasy areas.
Your Choice Of Panel
Chemglass offer floor panels in both open-mesh and solid types. The open panel is self-draining and will admit light and promote ventilation. The solid will keep out dirt and water whilst presenting a non-slip surface. Either can be produced in any British Standard colour to order.
Dimensions & Load-bearing Capacity
Four standard thickness are available… 13, 25, 38 & 50mm The 13mm is non-structural and used as an overlay to create an anti-slip floor or as a screen, the 25mm for pedestrian duty, the 38mm heavy-duty and the 50mm heavier still. Please see the load charts for details.
Cutting & Fitting
A full fabrication service is available from Chemglass, including panel cutting, and although our materials can be cut on site using normal power tools we recommend that more durable diamond or tungsten carbide discs and blades are selected for durability. Please contact us for advice. As with any work activity, a risk assessment should be carried, ensuring that full protective personal equipment is used, including a suitable dust mask. Cut edges should be sealed by painting with the same resin as that used for manufacture, which we can supply.